IMAGINE THE FUTURE OF AREA D
How can we make Area D a better place to live, work and play?
Area D, often referred to as 'the Village', is home to a diversity of people and places.
It is a community that features a range of multi-family housing, shops, restaurants, transportation options, and parks and green space.
We are developing a neighbourhood plan to ensure that any future growth in Area D meets the needs of the community and we need your help!
What is a Neighbourhood Plan?
A Neighbourhood Plan is a strategic plan that will be used by the UEL Administration to make decisions about Area D land use, infrastructure investment and community priorities. The Plan will outline a community vision for the future, with supporting goals and objectives, and a policy framework to guide future growth and development.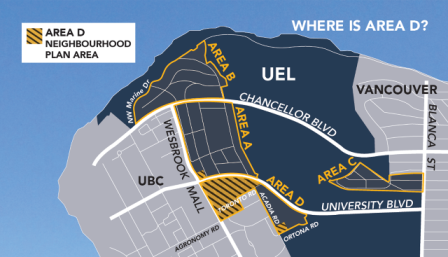 PROJECT TIMING
Throughout the process, we will be asking you to weigh in on the future of Area D. Your ideas, along with technical and staff input, will shape the Area D Neighbourhood Plan.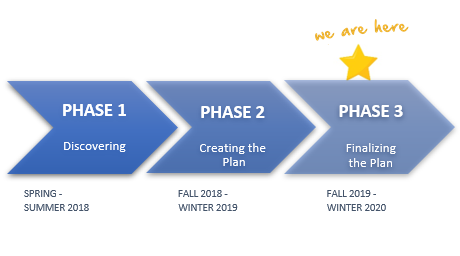 In Phase 1, we completed a lot of background work: we explored the currrent state of Area D; reviewed background documents, community facts and trends; hosted meetings and interviews; visited various sites in the neighbourhood; and identified key issues and priorities.
In Phase 2A, we hosted four public events to involve you in drafting a community vision, goals and directions for the Plan.
In Phase 2B, we hosted a Design Charrette and four public design review events to dive deeper into specific topics and discuss key policy and design options.
We are now in Phase 3 - Finalizing the Plan
In Phase 3, the combination of technical information and public and stakeholder input from previous phases informed the refinement of a preferred neighbourhood concept plan. The draft Plan was then developed with a vision, goals, concept plan, policy directions, objectives, land use designations, and policies. The draft Plan was circulated to the Community Advisory Council, Advisory Design Panel, external agencies, residents and stakeholders for review and feedback. We are currently making final revisions to the draft Plan and once the revisions have been completed, the Plan will then be brought forward to the Ministry of Municipal Affairs and Housing for consideration.
LEARN MORE
In Phase 2A, we asked the community about what you like and what could be improved about the neighbourhood, what your priorities are for the future and big ideas for topics like housing, transportation, parks and green space, heritage, the local economy, infrastructure and sustainability. Your thoughts and ideas can be found in the Phase 2A Engagement Summary Report. The results of the Design Charrette and four public design review events can be found in Phase 2b Engagement Summary Report.
The Area D Context Map shows recent and proposed development surrounding the Area D study area.
For additional information on key topics, check out the following references and backgrounders. These topics will be explored throughout the process.
Area D Backgrounders:
STAY IN TOUCH
If you would like more information about the draft Area D Plan and the planning process, get in touch with us through PlanUEL@gov.bc.ca.